Looking for resources to deepen your understanding of the wild world of arthropods? Looking to help your children or students engage in a range of science topics through bugs? You've come to the right place!
Online Bug Encounters
Online Bug Encounters is our exciting new Facebook Live series featuring all of your favorite Bug Ambassadors. We'll be going live from our Facebook Page every Wednesday at 1:00pm (MDT) to showcase all of our cool bugs! Each video session will be archived on our Online Bug Encounters web page along with an accompanying activity you can do together with your family at home.
Throughout the spring, summer and early fall we will introduce you to some insects and other arthropods you might find as you explore the outdoors in Montana. We'll also provide some instructions to help you find them. Check out our Backyard Bug Hunts here!
Field Trips & Distance Learning
In a changing world we are working to make sure teachers and families still have access to our engaging field trip opportunities. Learn more about the Distance Learning programing options we have available.
Listen to us on Montana Public Radio
Thanks to our partnership with MTPR you can catch us on the radio airwaves every Saturday at 9:29am for our podcast, Bug Bytes. On the last Wednesday of every month you can catch us when we make a guest appearance on their show, Pea Green Boat.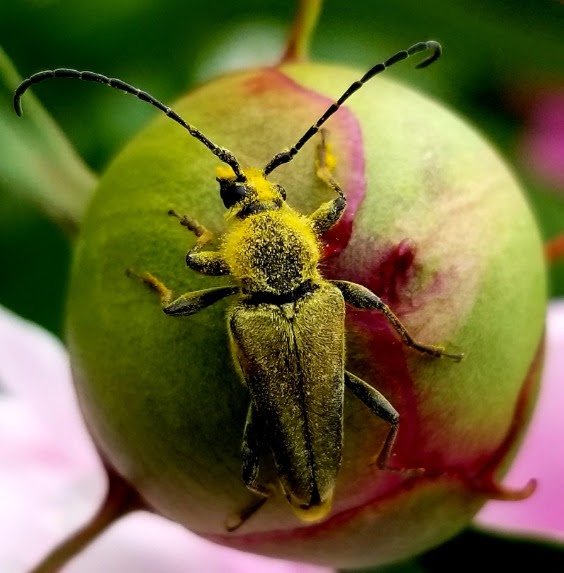 What's Buzzin' Blog
Our What's Buzzin' blog catalogues fun arthropod sightings our fans have had over the seasons in Montana. You can read about everything from the delicate Green Lacewing spotted near Wise River, MT, to the pair of common Melissa Blues found right here in Missoula. Check out the posts!
Notes From the Lab Blog
The Notes from the Lab blog brings you behind-the-scenes access to our lab and all of the cool creatures that call it home. Check in weekly for posts from Bug Wrangler Brenna as she gives you a look into the lives of our Bug Ambassadors. Check out the posts!
Create & Care for a Mason Bee Hotel
John Holbrook, a Blue Orchard Bee Mason Bee expert residing in Missoula, MT, shows you how to build a bee block, how the bees use the block, and what to do with the block at the end of the season in this 12-minute video. John also provides step-by-step written instructions.
A Guide to Organic Lawn Care
A Guide to Organic Lawn Care provides seasonal guidance to help you grow a safe and beautiful lawn by maintaining healthy soil. For a free copy visit the Missoula County Extension office, Currents Aquatic Center, or other project partners.
Family Friendly Resources
The Bug Chicks: Two entomologists based in Oregon that create great videos and have a cool online Junior Entomologist program!
SciShow is a locally produced video series that covers a wide range of topics. Here are a few of our favorites:
The New York Times "ScienceTake" Video Series: The videos are about two to three minutes long. You'll be surprised how much you learn in such a short amount of time! Some of our favorite videos of theirs include:
PBS SeriesDeep Look. They have a ton of really impressive videos. A few of our favorites are:
The "It's OK To Be Smart" series is another great one from PBS. A few of our favorites:
Byron Weber, namesake of our classroom, was a consummate naturalist and bug lover who even discovered a new species of butterfly in the Sweet Grass Hills of Montana. Byron was profiled on an episode of Backroads of Montana, discussing some of Montana's beautiful butterflies.